ST. PETER'S CATHOLIC CHURCH
1 BLUFF STREET
COUNCIL BLUFFS, IA 51503
Father Chuck's Thought For the Day.
September 27, 2021
This Sunday was priesthood Sunday.  One of the hardest things to face is that there are fewer and fewer active priests when the needs of the people are greater than they have ever been in the history of the church.  My thought for the day is to ask that everyone pray that Jesus raise up many more priests to serve our church.
God Bless,
                                           Church bulletin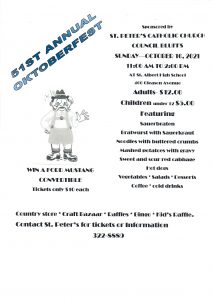 IN ACCORDANCE WITH BISHOP JOENSEN:
THE DAILY MASS SCHEDULE IS AS FOLLOWS:
TUESDAY              5:30 PM
WEDNESDAY        8:00 AM
THURSDAY           5:30 PM
FRIDAY                  8:00 AM
THE WEEKEND MASS SCHEDULE IS AS FOLLOWS:
SATURDAY         4:00 PM
SUNDAY              8:00 AM, 10:00 AM, NOON
PLEASE FOLLOW THE LISTED RULES:
   IF YOU FEEL SICK OR HAVE A FEVER YOU MUST STAY HOME
   THERE IS HAND SANITIZER IN THE BACK AND FRONT OF CHURCH.  PLEASE USE IT.
   COMMUNION WILL BE DISTRIBUTED IN THE HAND ONLY
   NO HOLY WATER
   ANYONE OVER THE AGE OF FIVE IS ENCOURAGED TO WEAR A MASK IN CHURCH.  I WANT TO       STRESS THE FACT THAT THIS IS NOT A REQUIREMENT.
   ALL PERSONS WHO ARE DISTRIBUTING COMMUNION MUST WEAR A MASK.
   THERE ARE NO RESTRICTIONS ON GATHERINGS.
   THE DIOCESE ENCOURAGES EVERYONE TO BE VACCINATED.
Don't forget to visit St. Peter's Catholic Church Facebook page or the churches website www.saintpeterscb.org for more information & messages, too.
Staff
Pastor: Father Charles Kottas
Deacon: Rev. Mr. Stephen Rallis
Deacon Rev Mr Pat Snook
DRE: Sarah and Jaime Juarez
Officer Manager/CYO Director: Jean Thomas
Maintenance: Robert Beck
Parish Office
LOCATED BEHIND THE CHURCH
1 Bluff Street
Council Bluffs, IA 51503
712-322-8889